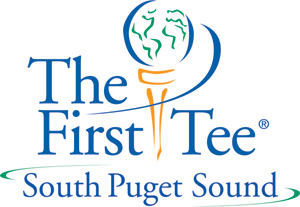 Mint Valley Golf Course is proudly affiliated with The First Tee of South Puget Sound.  They began programming the summer of 2011 and served 94 youth our first year at Meadow Park and Chambers Bay Golf Courses. In 2017, they served more than 45,000 youth throughout the South Puget Sound both on the golf course, in the classroom and in our community. Their National School Program (NSP) is in 73 schools in Pierce, Thurston and Kitsap counties. They are currently teaching lessons at eleven South Puget Sound golf courses with our spring, summer, fall, and winter programming.
The First Tee of South Puget Sound works strategically and intentionally with community partners to serve at-risk and underprivileged youth who would otherwise not normally get the chance to experience the game of golf. The First Tee coaches deliver programming that weaves golf and character building activities into each lesson, helping children become even more equipped to make good choices on and off the golf course. These programming partners include The Boys & Girls Clubs of South Puget Sound, Kings in Training, Joint-Base Lewis McChord, Rescue Mission, YMCA, Parks and Recreation Departments and others. More than 60% of our participants receive full or partial scholarships to enroll in programming.
The First Tee of South Puget Sound operates at 14 South Puget Sound golf courses: Allenmore, Chambers Bay, Eagles Pride, Gold Mountain, Lake Spanaway, Madrona Links, North Shore, Tacoma Firs, Tapps Island, Tumwater Valley, Village Greens, Whispering Firs, and Mint Valley Golf Course. All lessons are taught by The First Tee Certified Coaches and each facility has a complete practice area which includes a putting green, short game area and driving range. Youth ages 5 to 17 can join The First Tee of South Puget Sound. Being a part of The South Puget Sound Chapter allows our participants to utilize the golf courses, golf clubs, teaches them The First Tee Life Skills Experience, Nine Core Values, and Healthy Habits that builds character and develops leadership skills through fun, interactive and engaging lessons.
For more details about our programming please contact Brian Archer, Program Director, at brian@thefirstteesps.org or 253.468.4085.